The drive from Te Anau to Milford Sound was beautiful! lots of farmland surrounded by mountains everywhere. The funny thing about the drive from queenstown to Milford sound, is that they are so close to each other, as the crow flies, but you have to go all the way around Lake Wakitipu and through the mountains . If they were able to build a road from Glenorchy (just outside of QT) to Milford, it would probably take less than an hour, vs 4.5 hours! They do have little planes that fly from QT to MS that take like 30 minutes, but are like $300+. I Opted for the scenic drive, and did a boat cruise in the sound (one of the only touristy things that I caved in since EVERYONE recommended it.
Milford Sound is often dubbed the "8th wonder of the world" for good reason! Apparently it rains here 2/3 days and gets over 250 inches of rain a year! the first 27 feet of the sound is actually freshwater-a testament to how much it actually rains here! I actually got 2 bluebird days when I was down there, but apparently it's much better when it rains. The walls of the fiords get covered in waterfalls that aren't there on sunny day. Oh well, guess i have to go back!
I opted for the "nature cruise" in hopes to see some dolphins, etc. But they ended up going up to the seals that were lounging. They took us under waterfalls, and some people opted to cruise + kayak. They got dropped off at a dock loaded with kayaks and were able to kayak back to shore. The vessel was extremely windy and I went out on the front and my sunglasses immediately launched off the top of my head. RIP :(
next to a one lane bridge, I pulled over for this gorgeous view!
I stopped at Key Summit Hike on the way back. It was hands down one of the most beautiful places I've ever hiked! I started at 6:00pm, and being a 3 hour hike, I expected to be back to the car around 9. This hike connects to the routeburn track (books up within minutes of being available). Going at sunset time, there wasn't alot of traffic on the trails. I maybe passed one or 2 backpackers.
The drive back to my campsite near te anau at sunset was super beautiful. The sky turned all sorts of different colors (above and below)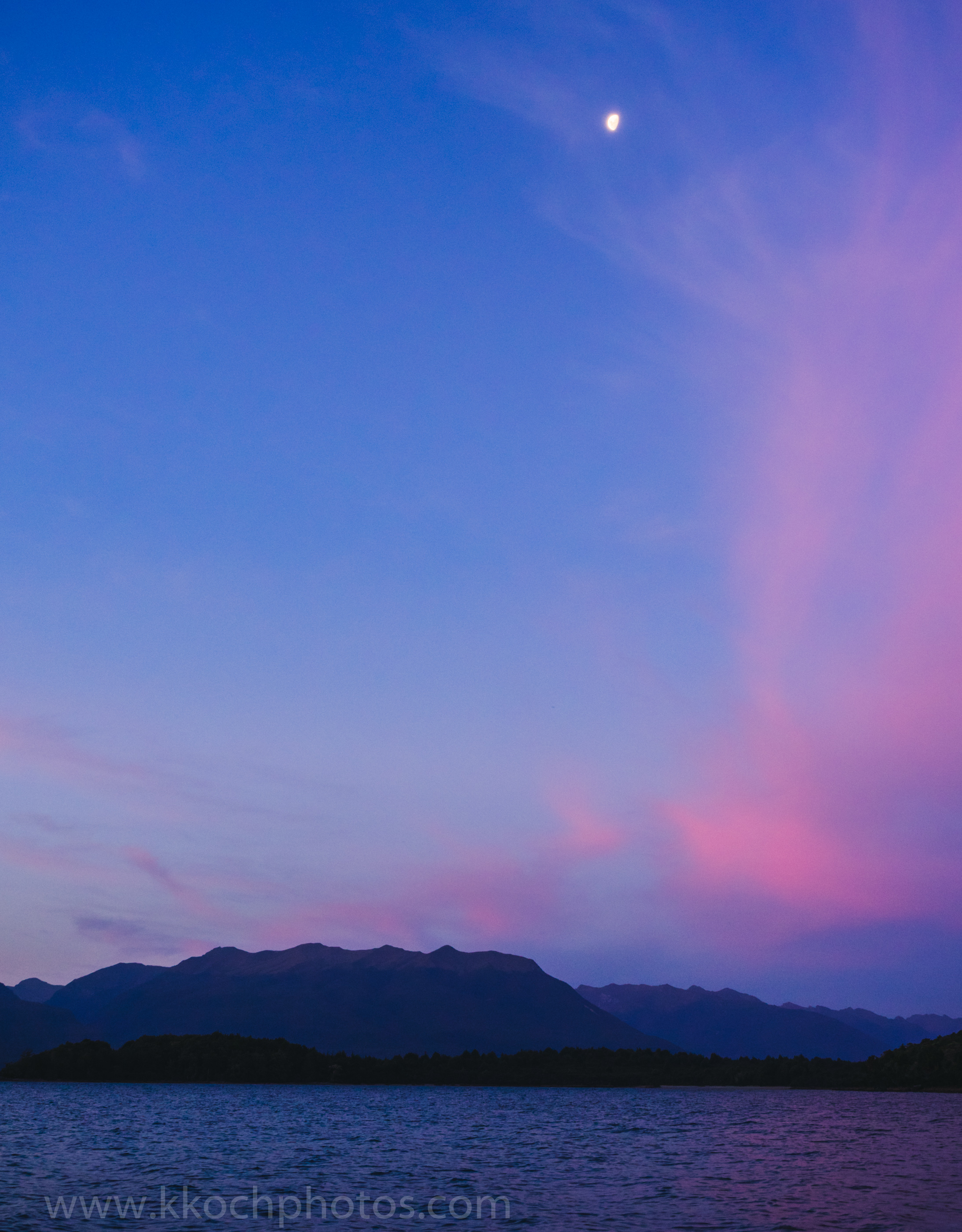 more of the sky show at camp :O
That's all for now! Next up will be Wanaka, and making my way over to the West Coast.